In Full Bloom 2017
In Full Bloom 2017 at Design Centre, Chelsea Harbour, in partnership with Chelsea Fringe, was a festival celebrating flowers, plants and gardens across the capital and beyond.
PHILIPPA CRADDOCK FLORAL DEMONSTRATION, 12PM 1 JUNE
With the summer season come flowers to inspire. At a sell-out event Philippa Craddock revealed why she is one of the country's most sought after florists. Known for her natural, abundant style, she designs and creates installations for weddings, parties, product launches and photo shoots for an international clientele including Christian Dior, Alexander McQueen, Hermès, Victoria & Albert Museum, Tiffany & Coand Lancôme, to name but a few. In front of a rapt audience of interior enthusiasts and flower lovers, she created a stunning centrepiece of swooning detail using delphiniums, stocks, eucalyptus and flowering mint in shades of blue, dusty pink and aubergine. McKinnon and Harris, known for its handcrafted, high performance garden furniture, provided the perfect venue for the demonstration.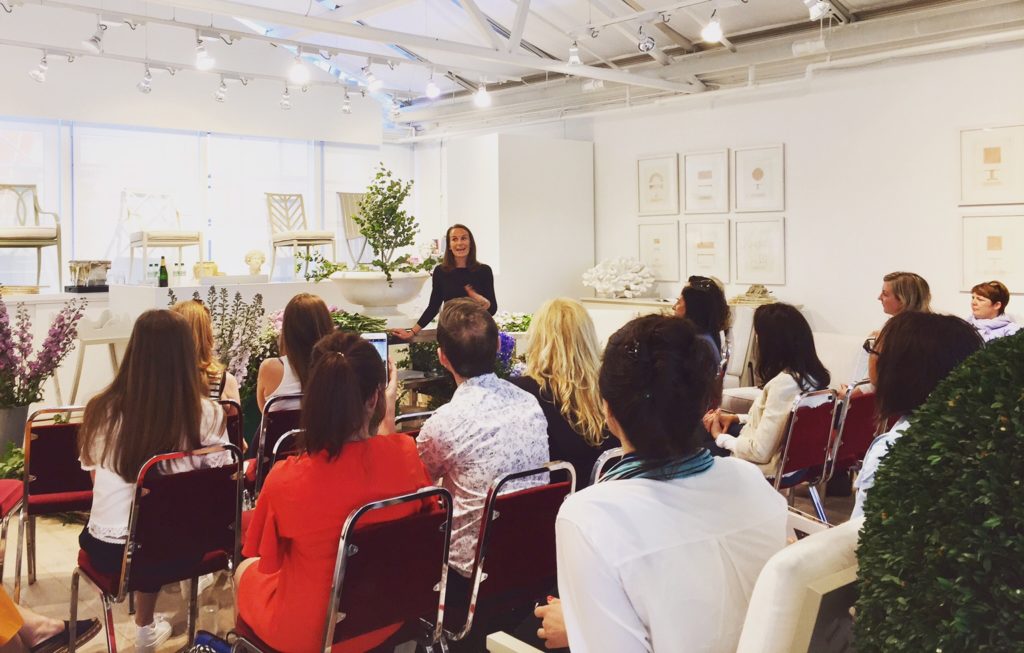 IN FULL BLOOM INSTALLATION
Exploring the connection between design and horticulture, Design Centre Chelsea Harbour commissioned a bold installation that reflected a current cultural zeitgeist in garden design. Featuring giant sunflowers handmade from the latest products, complemented by lighting and outdoor furniture, it presented a 'home grown' garden in an entirely new way. Click here to download the credits
IN FULL BLOOM DISCOVERY TOUR, 12PM 30TH MAY
Designs inspired by flora and fauna is a key theme for spring/summer and a special In Bloom Discovery Tour at 12pm on 30 May brought the abundance in the showrooms to both interior enthusiasts and a green-fingered audience.
IN FULL BLOOM AWARD
Floral-inspired windows and displays burst out all over Design Centre, Chelsea Harbour, celebrating the connection between design and horticulture. The In Full Bloom award was a new initiative which recognised showrooms that interpreted flowers in an original way. Judge Tim Richardson, founder of Chelsea Fringe and The Telegraph garden columnist, said it was 'the incorporation of bed springs to create a truly original piece of design' that made Savoir Beds the overall winner. Runner-up was Baker for its 'exuberant and delicate floral garland which created a bower-like entrance to the showroom'. To see all entries, follow #InFullBloomAtDCCH @designcentrech