London Design Week 2019 – Conversations in Design
The Conversations in Design series are carefully curated talks and panel discussions on the main stage to enable visitors to get top level insights from influential figures as well as rising stars. Speakers include Kit Kemp, Katharine Pooley, Beata Heuman, Russell Sage, Sarah Spiteri, Sophie Ashby, Charlie Casely-Hayford, Ben Spriggs, Steven Gambrel, Hatta Byng, Staffan Tollgård, Maria Speake, Michelle Ogundehin, Shalini Misra, Emma Burns, Guy Goodfellow, Max Rollitt, Giles Kime, Francis Sultana, Charlotte Abrahams, Michael Anastassiades, Sarah Miller, Lucy Barlow, Johnny Holland, Peter Gomez, Neil McLennan, Sophie Paterson, Bee Osborn, Laura Hammett, Becky Sunshine, Fiona McCarthy, Lady Henrietta Spencer Churchill, David Harber, Christopher Peacock and Jacqueline Terrebonne.
These sessions are ticketed. BOOK TICKET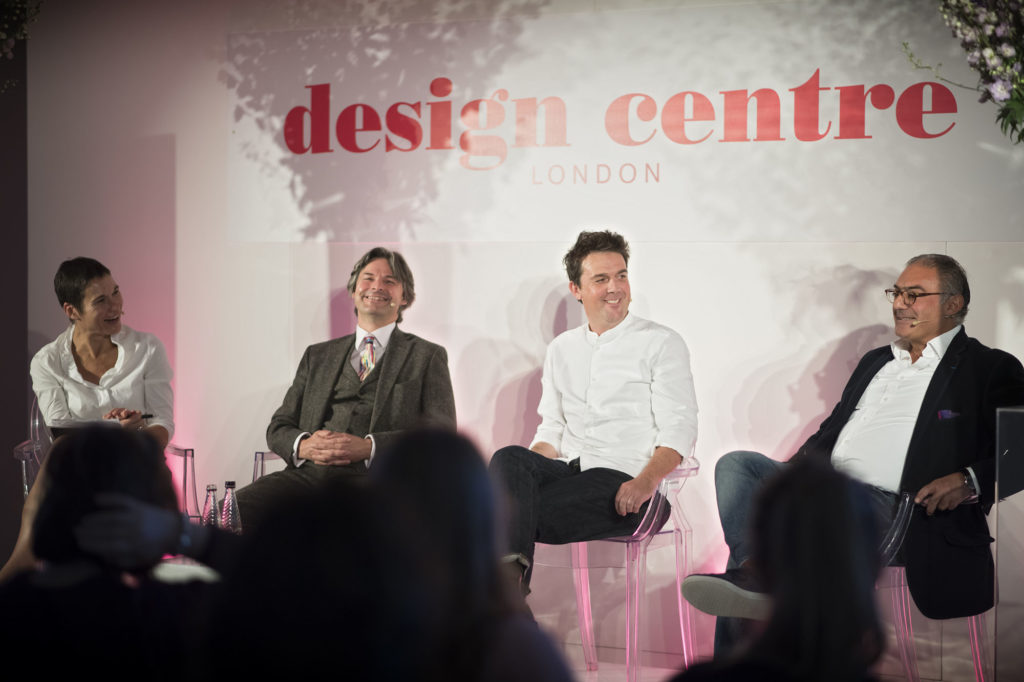 DESIGN HERITAGE: INSPIRED BY THE PAST TO REIMAGINE THE FUTURE
Hosted by Homes & Gardens 
Sunday 10 March, 11.30am – 12.30pm
TALK, First Floor, Design Centre East
Sharing a respect for our rich and enduring design heritage, three internationally acclaimed designers explore how they are inspired to create imaginative spaces for the world we live in today. Russell Sage, founder of Russell Sage Studio fresh from his latest project restoring a Victorian lodge in Braemar, Katharine Pooley whose eponymous studio has worked on landmark projects worldwide and Beata Heuman, a designer renowned for looking at the past and to the future, talk to editorial director Sarah Spiteri about how they fuse heritage and modernity.

DESIGN BRIEFING: BLUEPRINT FOR BUSINESS SUCCESS
Sunday 10 March, 3 – 4pm
TALK, First Floor, Design Centre East
Three accomplished designers – Maria Speake, co-founder of Retrouvius, Shalini Misra, founder of Shalini Misra Ltd and Staffan Tollgård, co-founder of Staffan Tollgård Design Group – consider the business lessons they learnt in building their award-winning interior design practices. Join them as they discuss how to navigate commercial challenges, tackle international expansion, negotiate collaborations and manage client relationships while consistently delivering creative integrity and growth. Panel discussion hosted by design writer and TV presenter, Michelle Ogundehin.
MICHAEL ANASTASSIADES: WORKING WITH LIGHT
Tuesday 12 March, 11.30am – 12.30pm
TALK, First Floor, Design Centre 
London-based designer Michael Anastassiades launched his London studio in 1994 to explore contemporary notions of culture and aesthetics through lighting, furniture, objects and spatial design. In conversation with Sarah Miller, founder of Sarah Miller & Partners, he discusses the principle notions of dialogue, participation and interaction that have defined his practice to date. Expect an insightful view into the world of this renowned designer, celebrated for his notable lighting and acquired work in the permanent collections of international museums such as MoMA and the V&A.

STEVEN GAMBREL ON DESIGN
Hosted by House & Garden
Tuesday 12 March, 3 – 4pm
TALK, First Floor, Design Centre East
Renowned New York designer Steven Gambrel talks to editor Hatta Byng about his unique approach, creating interiors that are both familiar and unexpected. Fusing a classical design vocabulary with the ways his clients live now, thoughtful compositions, superior craftsmanship and attention to detail are the hallmarks of his work. From a beach house in The Hamptons to an exclusive suite in Manhattan's Plaza Hotel, discover how his portfolio of spectacular projects are conceived with the same sophisticated layering of materials, textures and colours.

FRANCIS SULTANA: A DECADE IN DESIGN
Hosted by FT How To Spend It
Wednesday 13 March, 11.30am – 12.30pm
TALK, First Floor, Design Centre East
Specialising in luxury projects around the world, interior and furniture designer Francis Sultana is the go-to for international collectors who appreciate his ability to blend often large scale art, sculpture and installation pieces within interior spaces. His work is influenced by his Maltese heritage and the style of the 1920s and 1930s, and is distinguished by the use of noble materials and artisan techniques. Join writer Charlotte Abrahams as she talks to the design virtuoso celebrating 10 years of his eponymous studio.

ME AND MY DESIGN HERO
Hosted by Country Life 
Wednesday 13 March, 3 – 4pm
TALK, First Floor, Design Centre East
Three renowned interior designers nominate inspiring figures – past and present – whose singular approach has informed their own design thinking. Join Emma Burns of Sibyl Colefax & John Fowler, Guy Goodfellow and Max Rollitt as they talk to interiors editor Giles Kime about their design heroes. From being mentored by a highly respected designer with an original aesthetic, finding inspiration in eclectic, cosmopolitan interiors to a notable furniture maker – they reveal the creative legends who have had a significant impact on their work.
Book ticket £10, CLICK HERE
TAILORING FASHION AND INTERIORS: CREATIVE COLLABORATIONS
Hosted by ELLE Decoration
Thursday 14 March, 11.30am – 12.30pm
TALK, First Floor, Design Centre East 
Forecast by ELLE Decoration as 2019's 'power couple', Sophie Ashby, founder of Studio Ashby and fashion designer Charlie Casely-Hayford, talk to editor Ben Spriggs about their shared love for design. Charlie looked no further than his critically acclaimed wife to renovate his new fashion store on London's Chiltern Street. Discover how Sophie's modernist-meets-eclectic signature style, Charlie's contemporary approach to tailoring and a mutual appreciation of art and culture marked their first working collaboration SOLD OUT

MODERN GLAMOUR: CAPTURE THE STYLE
Hosted by Livingetc
Thursday 14 March, 3pm – 4pm
TALK, First Floor, Design Centre East
Trying to describe 21st century glamour is often full of contradiction – luxurious yet effortless, polished yet relaxed, confident yet natural. Cutting through the ambiguity, three style mavens come together to explore how to go about achieving a space that oozes modern glamour.  Join Lucy Barlow, founder of Barlow & Barlow, Johnny Holland, founder of Hackett Holland and Peter Gomez, head of design at Zoffany as they discuss what defines this most aspirational of interiors style. Chaired by Livingetc executive editor, Neil McLennan, expect to be inspired as this design-savvy panel share their imaginative creative vision.
Book ticket £10, CLICK HERE
DESIGN THREAD
Thursday 14 March, 6 – 7pm
TALK, First Floor, Design Centre East 
Internationally acclaimed designer Kit Kemp explores the inspiration behind her creative process. In conversation with lifestyle writer Fiona McCarthy, the pair will discuss how Kit weaves a captivating narrative into all her interiors. Showcasing her unique approach Kit will delve into a selection of her latest designs, each treated as an individual work of art. Her interiors are tailored and highly detailed but still have a feeling of calm and pique curiosity, creating personal, authentic, handcrafted spaces which stand the test of time. This promises to be a visual journey that will delight the eye and capture the imagination. Followed by drinks SOLD OUT

DESIGN CONNECTIVITY: INSTAGRAM AND INFLUENCERS
Friday 15 March, 11.30am – 12.30pm
TALK, First Floor, Design Centre East
Putting the spotlight on Instagram, three acclaimed interior designers consider how they have successfully developed the art of visual storytelling. Bee Osborn, founder of Osborn Interiors, Laura Hammett, co-founder of her eponymous studio and Sophie Paterson, founder of Sophie Paterson Interiors, talk to design writer Becky Sunshine about how they put together inspiring, authentic content to cultivate and engage their social media following. Expect insightful observations as they explore the impact of this powerful networking platform to help grow their business SOLD OUT

PRINCIPLES OF SCALE: A BALANCING ACT
Hosted by Galerie
Friday 15 March, 2pm – 3pm.
TALK, First Floor, Design Centre East.
When it comes to creating a dynamic space, scale and proportion can be just as powerful as style and colour. These building blocks lay the foundation for the visual narrative and bring cohesive direction to every project. Join interior designer Lady Henrietta Spencer-Churchill, Christopher Peacock of his eponymous luxury cabinetry company and award-winning sculptor David Harber, along with Galerie editor in chief Jacqueline Terrebonne, for a lively discussion on this dynamic topic. The internationally renowned panel, who work on both sides of the pond, will touch on transatlantic commonalities and differences, historic and modern influences, plus how an emphasis on craftsmanship and a tailor-made approach brings a unique personality to their projects no matter the size.
Book ticket £10, CLICK HERE